EDI Online Annual Conference 2020
On 28-30 June 2020, EDI held its first entirely online Annual Conference. When it became apparent that the COVID-19 pandemic would restrict our ability to hold the conference in-person in Namur as intended, we had two choices: cancel or adapt. With the help of the EDI Research Directors Jean-Philippe Platteau and François Bourguignon, OPM communications and tech teams, and the EDI management team, the conference was moved to an entirely online format, and with great success!
97 researchers, members of the EDI scientific committees, and programme management staff joined the conference across the three days. Delegates attended from a variety of locations around the world, with participants logging on in from 17 different countries including Bangladesh, Canada, India, Italy, Mexico, Pakistan, USA, and Zimbabwe.
The annual conference is an opportunity for EDI-funded researchers to present their work to date and to receive peer review, constructively critique, and answer questions on the progress of studies and policy application. The thematic sessions were led by presentations from our different research areas*, and covered the themes of state and governance, private sector development, state bureaucracy, justice, and communities and clans.
*Randomised control trials (RCTS) looking at practical tests of reform proposals, and case studies on the interactions between formal and informal institutions in relation to growth and development.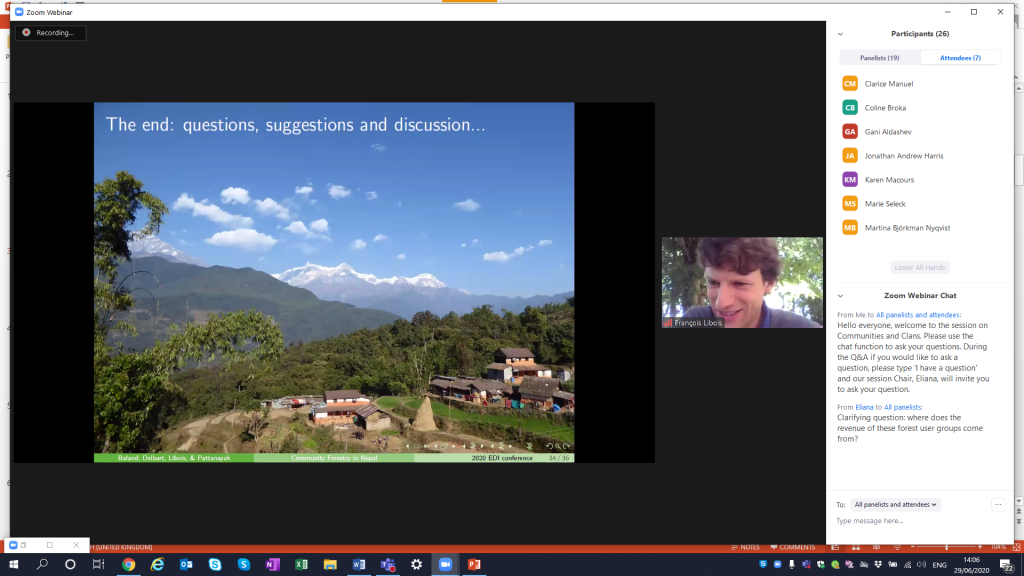 Francois Libois presents his research on cooperatives and forest management in Nepal
A number of EDI's 61 research projects have completed and were showcased in concurrently run sessions, while ongoing projects were also under the spotlight. Q&A sessions and discussions were lively and insightful, resulting in many suggestions for researchers to consider as they continue to complete their work and publish their papers. Please see the list at the end of this article to get a sense of the breadth of research presented at the conference.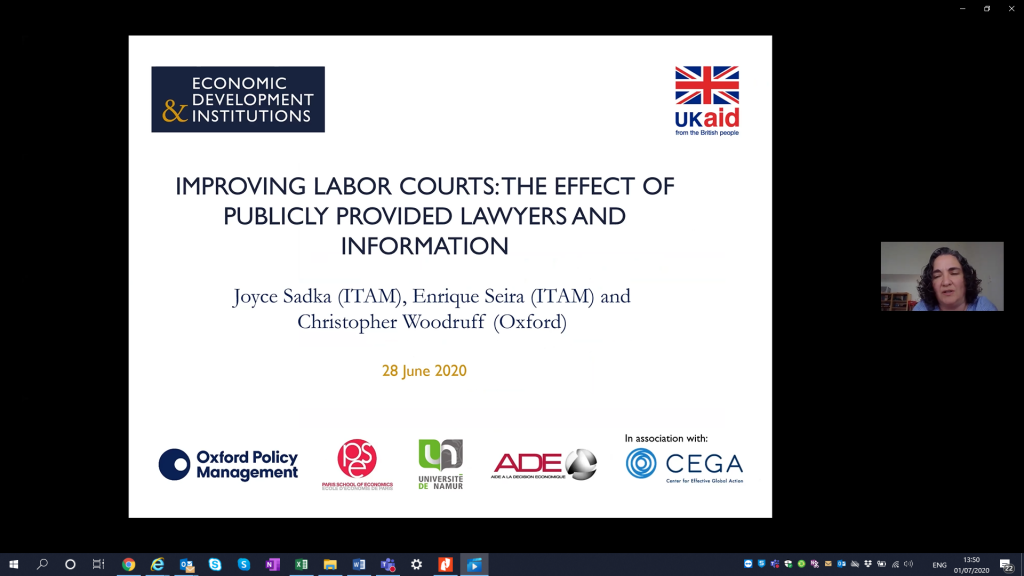 Joyce Sadka presents her RCT
EDI is not just a research programme, but aims to promote a deeper understanding of the key processes that influence economic growth across the globe and the role of institutional change in shaping these processes. The presentations and discussions reflected on this aspect with many insights and suggestions on policy relevance and institutional change.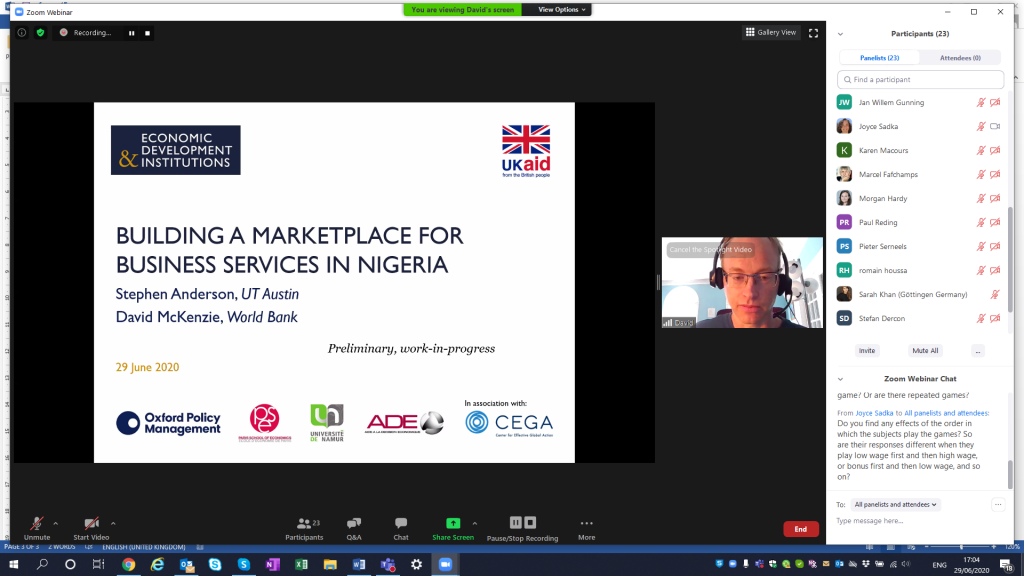 David McKenzie presents in the Private Sector Development session on Monday 29 June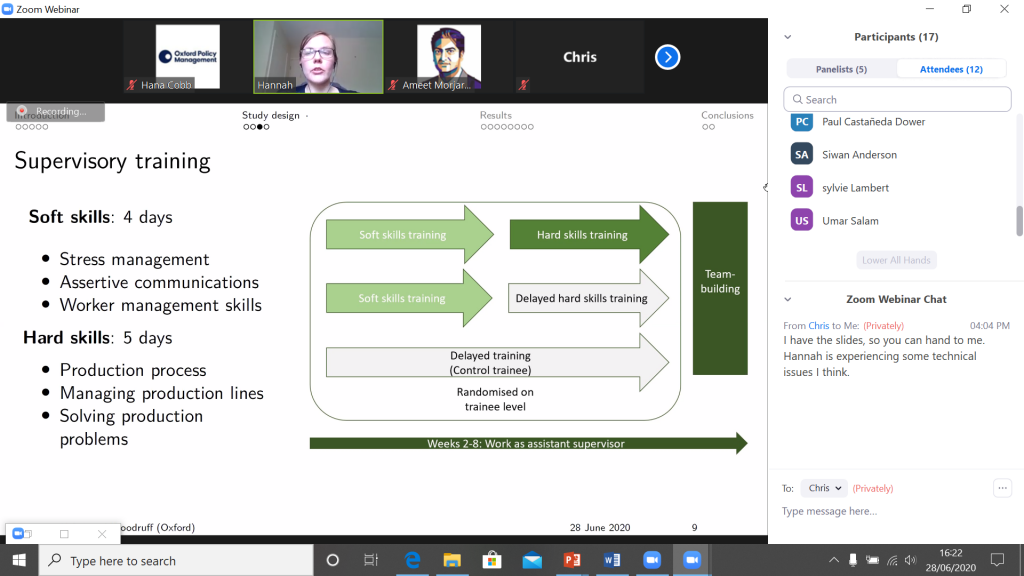 Hannah Uckat presents on day two
The conference ended with a plenary session focussed on EDI's ambitious and challenging institutional diagnostic, with presentations by Jean-Philippe Platteau and Francois Bourguignon and comments from Romain Houssa, Selim Raihan followed by a discussion with Shanta Devarajan, Senior Director of Development Economics at the World Bank. The institutional diagnostic aims to develop a framework that will permit policy-makers to identify weak institutional areas that constrain development and appropriate directions for reform. Research in this area has been completed in three countries, Tanzania, Benin, and Bangladesh, with research ongoing in Mozambique. Since the 2019 Annual Conference, the Benin and Bangladesh studies have been completed, and the session reflected on the political economy of reforms and other lessons learnt from undertaking these country studies.
By presenting the Benin and Bangladesh studies side-by-side, the discussion noted that despite certain similarities between the two countries there are significant differences in their institutional structures, and that effective policy reform depends on understanding these differences. For example, whilst the economies of both Benin and Bangladesh are dominated by a single sector (cotton for the former, Ready-Made garments for the latter) the nature of the relationship between politics and business is quite different in the two countries with important implications for industrial development. Similarly, other factors, such as the international relationships with 'giant' neighbours (Nigeria and India), and social factors, such as ethnicity or gender, also affect institutional structures, but in distinctive and specific ways. Comparisons such as these highlighted the value of the in-depth institutional studies and the diagnostic method more generally. The session concluded with a debate on policy reforms, and institutional obstacles to achieving them, in the light of the various development challenges faced by both countries, not least the COVID crisis.
All presentations were recorded and will be made available on the EDI website in the coming weeks.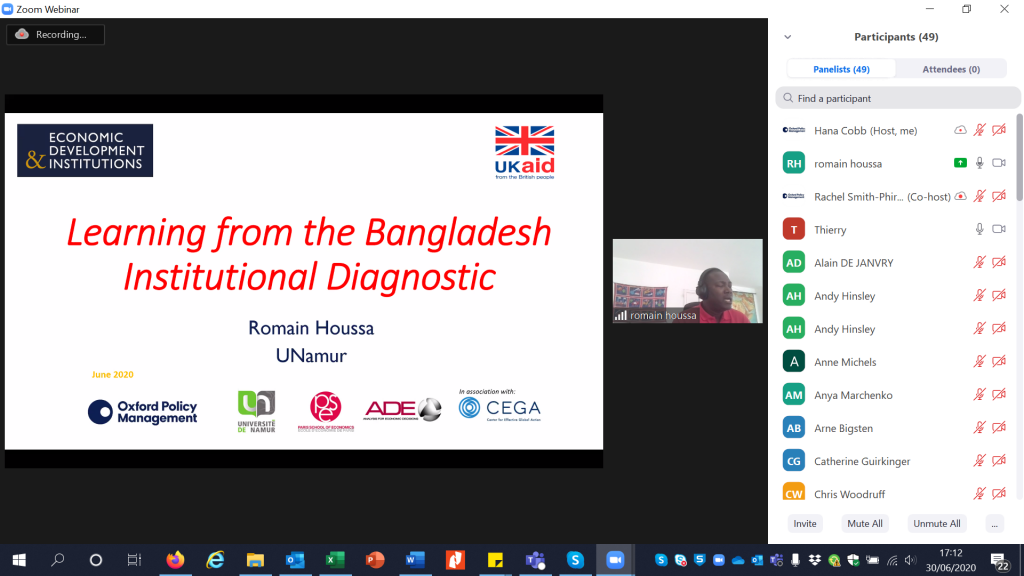 Romain Houssa, presents his discussion on the Institutional Diagnostic research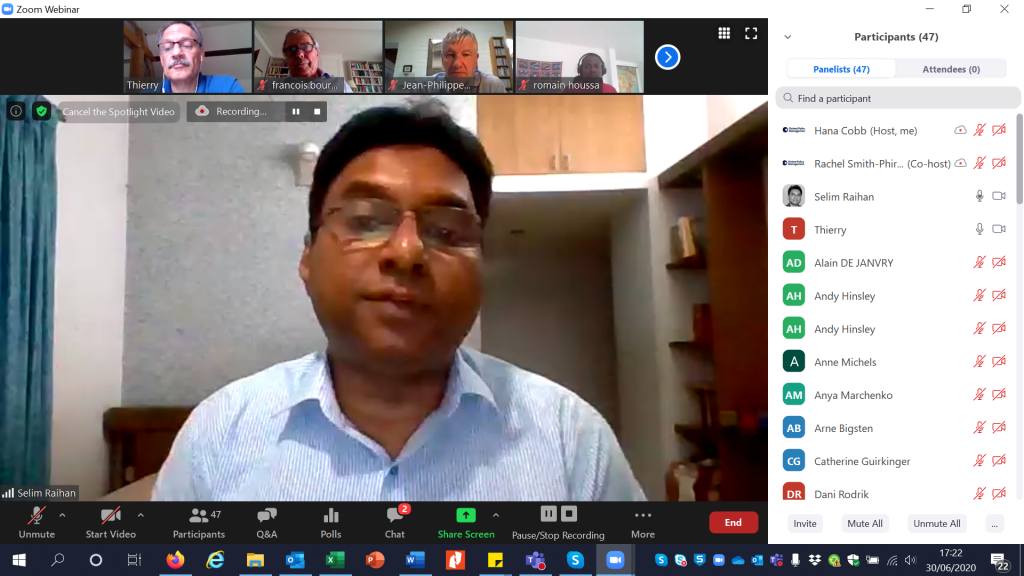 Bangladesh Institutional Diagnostic Principle Investigator Selim Raihan, discusses the diagnostic research
 Research presented during the conference
State and Governance
'Strategic Game Military and Clerics' – Emmanuelle Auriol, Jean-Philippe Platteau and Thierry Verdier
'Land Reform: Political Economic Theory' – Karl Moene, Ragnar Torvik, Halvor Mehlum and Rob Davies
'Political Uncertainty, Market Structure, and the Forms of Elite Capture' – Leonard Wantchekon
'Political Clientelism and Implications for Delivery of Government Programs in West Bengal' – Dilip Mookherjee
State Bureaucracy:
'Using digital trails to improve management and accountability for public service delivery' – Yusuf Neggers, Rohini Pande and Charity Moore
'Performance-Based Incentives in Multi-Layered Organizations: Evidence from Sierra Leonean Community Health Workers' – Erika Deserranno, Philipp Kastrau and Gianmarco Leon-Ciliotta
'Social structures, political accountability, and effective public goods provision' – Nathan Nunn
'Is Knowledge Power?: Civics Training, Women's Political Representation, and Local Governance in India' – Soledad Artiz Prillaman
'Can Transparency Improve Preferences and Norms in the Public Sector?' – Stuti Khemani
Private Sector Development:
'Supporting Leadership: Family and Soft Skills as Ingredients of Successful Managers' – Hannah Uckat and Chris Woodruff
'Ownership Changes, Management and Efficiency: Evidence from Rwanda's Coffee Industry' – Rocco Macchiavello and Ameet Morjaria
'Material Incentives and Effort Choice: Evidence from an Online Experiment Across Countries' – Marcel Fafchamps
'Understanding the role of information, quality signaling, and third-party certification in building
a marketplace for professional services in Nigeria' – David McKenzie
Justice:
'Cultural Leaders and Rule of Law' – Sultan Mehmood and Avner Seror
'Improving labor courts: the effect of publicly provided lawyers and information' – Joyce Sadka and Christopher Woodruff
Communities and Clans:
'Governance of forest in Nepal: from centralized control to local users cooperatives' – Francois Libois and Jean-Marie Baland
'Firms, Kinship and Economic Growth' – Paul Dower, Ted Gerber and Shlomo Weber
Political Economy of Reforms and Other Lessons from Benin and Bangladesh:
'State Capture in a Rent-Based Economy: An Institutional Diagnostic of Benin' – Jean-Philippe Platteau
'Is the "Bangladesh Paradox" Sustainable? An Institutional Diagnostic of Bangladesh' – François Bourguignon